This macrame squares bracelet can be made with only 4 cords, there is slightly little difference between this and the spiral bracelet. This is a useful basic technique which can help sometimes in your complex macrame pieces.
I started with the two cords in the middle then I knotted 6 half hitches each side, then turned with interchanging the cords and knotted 4 half hitches each side, and at last I connected the sides and repeated these steps again until I reached the desired length.
I used 1mm turkish braided waxed polyester cord for this project.
I hope you manage! 🙂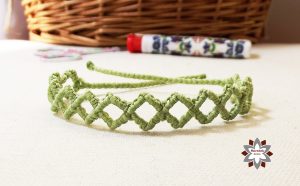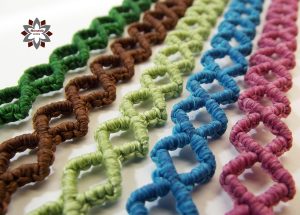 Used materials:
4 x 100cm waxed polyester cord (1mm).
You will also need:
a workboard (mine is a covered swimming board);
scissors;
pins;
and a lighter.
Click on the first thumbnail and you can click the left/right arrows to the previous/next step: