A very simple but attractive earring with a 7mm Lapis Lazuli bead in the middle.
I thought it would be better if I would write the length of the thread on the images.
I rotated my working board while working, I hope the steps are clear and you can follow them, if necessary you may watch the images again and it will be more comprehensible! 🙂
You can mirror the pattern to have a left and a right piece of earring, or you can knot two exactly same.
If you would like to make a bigger earring then you only have to add new loops with the same system until you have enough cords to knot with. You may even play with adding different colors.
After finishing the earring I usually adjust it with my hands to look like more beautiful. 🙂
I used 0.9mm Amann Serabraid T90 thread, if you have any questions about the cords I use, or the board I work on, please visit FAQ first.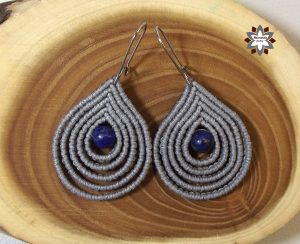 Used materials:
5 x 40cm waxed polyester cord (0.9mm thick) per earring;
5 x 70cm waxed polyester cord (0.9mm thick) per earring;
2 x 7mm lapis lazuli beads;
2 pcs earring closures.
You will also need:
a workboard (mine is a covered swimming board);
scissors;
pins;
and a lighter.
Click on the first thumbnail and you can click the left/right arrows to the previous/next step: