Venus earrings are of medium difficulty and are not designed specifically for beginners.
I made a lot of images to help you to understand the steps.
I hope the steps are clear and you can follow them, if necessary you may watch the images again and it will be more comprehensible! 🙂
Each cord is the same length and I started knotting in the middle of them.
You can mirror the pattern to have a left and a right piece of earring, or you can knot two exactly same.
You can play with the number of the knots just be sure to make the earring symmetric and both pieces the same. 🙂
The brown earring is not exactly the same as the grey one, because there is an extra line in it which I left out to get a prettier design.
After finishing this earring don't forget to adjust it with your hands.
I used 0.9mm Amann Serabraid T90 thread, if you have any questions about the cords I use, or the board I work on, please visit FAQ first.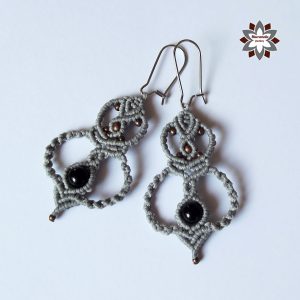 Used materials:
4 x 60cm waxed polyester cord per earring;
1 x 8mm bead per earring, I used black onyx bead;
1 x 2.5mm metal bead per earring (the biggest one in the middle);
2 x 2mm metal beads per earring (the two on the top);
4 x 1.5mm metal beads per earring (the four tiny ones);
2 x earring closures.
You will also need:
a workboard (mine is a covered swimming board);
scissors;
pins;
and a lighter.
Click on the first thumbnail to enlarge and you can click the left/right arrows to the previous/next step: