I wanted to make a tutorial for this double spiral pattern a long time ago, because I think this is a basic pattern that every macrame knotter should know, and because I didn't catch easily myself how to make it when I was a beginner. After spending many time with trying to make it by myself I managed to make it and I love this pattern which can be used and combined in many ways.
The time has come to make it after the simple spiral bracelet tutorial has already been done.
I hope many of you will find it useful. 🙂
As you start the bracelet you have to start with the 4 pieces of 80cm cords and you add the 2 longer cords last.
Notice that I recommend a length of cord in each tutorial, but the real length is up to the thickness of the cord you use, the strengthness of the knots you make and the length of the whole bracelet you need to make for one's wrist. So the more you practice the better you will be in evaluating the necessary length of the cords.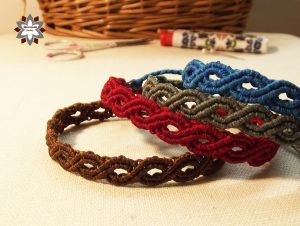 Used materials:
4 x 80cm waxed polyester cord (1mm); Start with these 4 cords!
2 x 150cm waxed polyester cord (1mm).
You will also need:
a workboard (mine is a covered swimming board);
scissors;
pins;
and a lighter.
Click on the first thumbnail and you can click the left/right arrows to the previous/next step: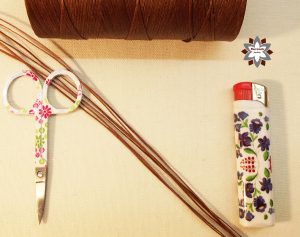 I wish you many happy hours with knotting this bracelet. 🙂