With making this macrame snowflake ornament you can add a great piece to your christmas decoration collection.
The first few steps are the same as in the previous snowflake tutorial, but then we add cords two times to make a more complicated upshot. 🙂
If you find it too difficult to make, then start with my first snowflake tutorial, and come back afterwards.
When starting the snowflake you use the longer pieces and as you go with the pattern add 6x55cm again, then 6x45cm and last time the 6x40cm.
I used 1mm shoe-sewing braided waxed polyester cord in this project.
If you have any questions about cords, please visit FAQ first.
You can also make christmas angel ornaments. 🙂
Happy knotting!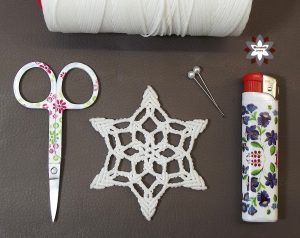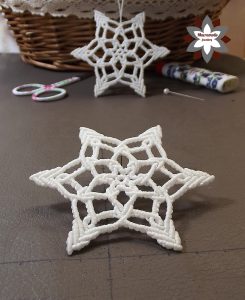 Used materials:
12 x 55cm waxed polyester cord (1mm); (start and firstly add)
6 x 45cm waxed polyester cord (1mm); (when in the middle)
6 x 40cm waxed polyester cord (1mm). (lastly add)
You will also need:
a workboard (mine is a covered swimming board);
scissors;
pins;
and a lighter.
Click on the first thumbnail and you can click the left/right arrows to the previous/next step: