I love this blue color! 🙂
This is the brother of the Burgundy step earring, because they are very similar to each other.
The difference between them is the color (which I love, did I mention??), the tiny metal beads in the middle holes and a new technique (here): not to cut and burn every unnecessary cord, but hide and cut them.
So, I only burnt the last few cords. When you cut and burn cords, their color will be darker, sometimes it can be even an advantage, but when I make a one-color piece I prefer not to burn only when I need to.
I hope you can see the process clearly.
I used Settanyl cord, it's very similar to Linhasita.
You can order Settanyl from here: MacrameSupplies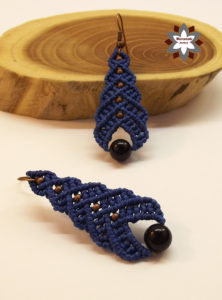 Used materials:
7 x 60cm waxed polyester cord (1mm) per earring;
1 x 8mm bead per earring, I used onyx bead;
5 x 3mm copper beads;
2 x earring closures.
You will also need:
a workboard (mine is a covered swimming board);
scissors;
pins;
and a lighter.
Click on the first thumbnail and you can click the left/right arrows to the previous/next step: