It is an absolute beginner tutorial, very easy, the steps are repeated and it is super for practicing. The bracelet is one of my favourite with its lovely pattern and I often wear 2 or 3 of it with different colors.
You can make various pieces with changing the number of knots in the bracelet. For example you can make only equal sized spirals, or one bigger-one smaller, etc., it is up to you.
If you try using different colored cords, then you can easily follow them while knotting. It is important when later you will plan your more complex macrame works. 🙂
I hope you manage! 🙂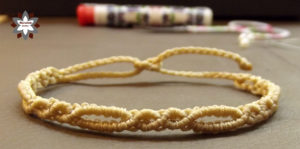 Used materials:
2 x 60cm waxed polyester cord (1mm) (Start with these cords.);
2 x 110cm waxed polyester cord (1mm), (I used waxed braided shoe sewing thread).
You will also need:
a workboard (mine is a covered swimming board);
scissors;
pins;
and a lighter.
Connect the 4 cords and begin knotting with the 2 shorter ones.
Click on the first thumbnail and you can click the left/right arrows to the previous/next step: